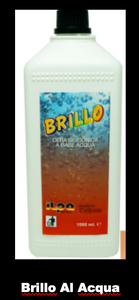 Ilpa Brillo Al Acqua
$3300

$33.00
Tax included.
---
---
Brillo Al Acqua is a very versatile tool with a protective effect. The polishing agent is in a thick gel-like form, has a deep penetration property in the pores of the material. The polishing agent does not form a surface film.
Universal polishing agent based on silicone compounds easily fills micro-cracks and scratches. It conceals small defects on the surface of marble and granite.
The product is perfect for polished marble and granite surfaces, natural and artificial stone, floors and steps, tabletops.
Features:
It betrays the water repellent effect
Hides small scratches, defects
Gives a slight enhancement of color
Raises the gloss of the surface
Protects against fat
Easy to apply
Method of application:
Clear the stone that you were going to process for a day.
Let the stone dry well
Apply polishing agent to the surface, wait 5 minutes
Wipe with a clean cloth or felt (not rough or flammable materials)
Note: Test and apply to a small discrete area first
NOTE:
Product is flammable and is pickup only in Perth, please contact us for special delivery freight pricing