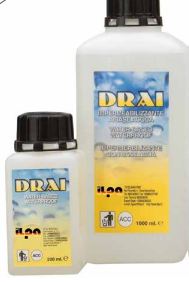 Ilpa Drai Al Acqua (Water Based)
$2800

$28.00
Tax included.
---
---
DRAI is a water-based product, waterproof and protective agent that combines excellent water resistance with a good oil resistance. It can be applied by spray, brush or roller.
Impregnation for stone Drai Ilpa - hydro repellent for natural stone, water-based. Used in stone processing to impregnate natural stone, marble, granite, sandstone, brick, agglomerates.
Features:
Does not change the color of the stone
Protects against water, oil, dirt
Vapor permeable
Processed material: marble, granite, travertine, sandstone, concrete, brick, agglomerates
Method of application:
Clean the stone of old dirt, glue residues, and stains.
Allow the stone to dry, preferably within 24 hours.
A small amount to apply on marble, granite with the help of vetashi, brushes, rags.
Wait 15-20 minutes for impregnation to absorb into the stone.
After that, if there are leftovers that have not been absorbed, clean with a cloth.
We recommend to increase the effect of opening the stone in 2 layers.
Consumption: 1L - 10 / 20m2 (depending on the porosity of the stone)
NOTE:
Product is flammable and is pickup only in Perth, please contact us for special delivery freight pricing