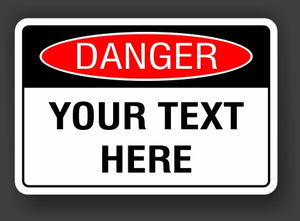 Customizable Danger Signs Black On White
$2750

$27.50
Tax included.
---
---
Danger signs are hazard signs which warn of a hazard or hazardous condition that is likely to be life-threatening.  It's easy-to-read lettering make it a functional and durable warning sign. Danger signs promote the safety and health from possible hazardous situations and shall be used only where an immediate hazard presents a threat of death or serious injury to employees. The red, Black and white danger header can appear on sign in portrait or landscape format. AS1319 recommends that symbols not be used on danger signs. 

Weather and fade-resistant 

Bold lettering and graphic assure high visibility and recognition 

Highly visible to alert people in the area

For use in hazardous conditions 

Easy to install

1-sided

Suitable for indoor and outdoor use
Note: All signs are made and shipped within 6 working days or sooner!
Safety Blanks- Add your own message!
Or leave field blank for blank sign. 
Sample Signs available
| | | |
| --- | --- | --- |
| 11,000 VOLTS | BATTERY CHARGING STATION | DEEP EXCAVATION |
| 240 VOLTS | CAUSTIC | DEMOLITION WORK IN PROGRESS |
| 415 VOLTS | CHEMICAL STORAGE AREA | DIESEL |
| 6,600 VOLTS | CHLORINE | FUEL |
| ACETYLENE | COMPRESSED AIR | DO NOT ENTER |
| ACID | CONFINED SPACE | DO NOT OPERATE WITHOUT GUARDS |
| ACID AREA NO THOROUGHFARE | CONSTRUCTION SITE | DO NOT USE |
| AMMONIA, ANHYDROUS AMMONIA | CORROSIVE | ELECTRICAL SHOCK HAZARD |
| ASBESTOS | CRANE WORKING OVERHEAD | ELEVATOR SHAFT |
| AUTHORISED PERSONNEL ONLY | CYANIDE | EXPLOSIVE GAS NO SMOKING |
| EXPLOSIVES KEEP OUT | HIGH VOLTAGE | NITROGEN |
| EYE PROTECTION REQUIRED | HOT | NO ADMITTANCE |
| FLAMMABLE | HYDROCHLORIC ACID | NO ENTRY |
| FLAMMABLE GAS | KEEP CLEAR OF MOVING CONVEYORS | NO ENTRY AUTHORISED PERSONNEL ONLY |
| FLAMMABLE LIQUIDS | KEEP HANDS CLEAR | NO SMOKING |
| FLAMMABLE MATERIALS | KEEP OUT | NO SMOKING BEYOND THIS POINT |
| FORKLIFT OPERATION AREA | LIQUID PETROLEUM GAS | NO SMOKING NO OPEN FLAMES |
| FUEL STORAGE NO SMOKING | LIVE WIRES | OPEN PIT |
| HAZARDOUS MATERIAL AREA | LOOK OUT FOR TRUCKS | PINCH POINT |
| HIGH PRESSURE | LOOK OUT FOR FORK LIFT TRUCKS | POISON |
| PROPANE GAS | RIGGERS ONLY | SULPHURIC ACID TOXIC MATERIALS |
| RADIATION AVOID DIRECT EYE CONTACT | SAND BLASTING IN PROGRESS | UNDERGROUND CABLES |
| RESTRICTED AREA | SCAFFOLDING INCOMPLETE | WATCH YOUR STEP |
| WORKERS ABOVE | WORKERS BELOW  | |