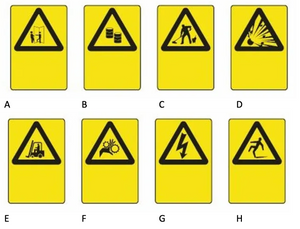 Customizable Warning Signs Black Yellow
$1900

$19.00
Tax included.
---
---
Warning signs are hazard signs which indicates a potential hazard, obstacle, or condition requiring special attention and is not likely to be life-threatening. The symbolic shape used on warning hazard signs is a black triangle with yellow interior and black symbol. Warning signs can be used for roads, construction sites,  hospitals, schools, businesses, industries, airports, etc.  While AS1319 does not require that the word "warning" be printed on the sign, these signs are offered due to popular demand, when the added impact of a signal word is desired. 
Weather and fade-resistant 

Bold lettering and graphic assure high visibility and recognition 

Highly visible to alert people in the area

Great for businesses and construction zones

Easy to install

1-sided

Suitable for indoor and outdoor use
Safety Blanks- Add your own message!
Or leave field blank for blank sign. 
Note: All signs are made and shipped within 6 working days or sooner!
Sample Signs available
| | | |
| --- | --- | --- |
| 240 VOLTS | FIRE DOOR DO NOT BLOCK | OVERHEAD CRANE |
| 415 VOLTS | FORKLIFTS IN USE | POISON |
| ACID | GUARD DOGS ON DUTY | RADIATION AREA |
| ASBESTOS FIBRES | HIGH PRESSURE PIPELINE | RADIATION HAZARD |
| BACK IN SLOWLY | HIGH VOLTAGE | RISK OF ELECTRICAL SHOCK |
| BE SAFE LOCK IT OUT | HOT SURFACE | RISK OF EXPLOSION |
| BEWARE OF BACK INJURY WHEN LIFTING | ISOLATOR | ROOFING MATERIAL CONTAINS ASBESTOS |
| BEWARE OF MOVING PARTS | KEEP AISLEWAY CLEAR | SCAFFOLDING INCOMPLETE |
| BEWARE OF OPENING DOOR | KEEP CLEAR | SHARP EDGES WATCH YOUR FINGERS |
| BEWARE OF VEHICLES | KEEP CLEAR OF MOVING MACHINERY | SLIPPERY SURFACE |
| BEWARE REAR END SWING | KEEP DOOR CLOSED | SLIPPERY WHEN WET |
| BIOHAZARD DISPOSE OF PROPERLY | KEEP HANDS CLEAR | SOUND HORN |
| BIOLOGICAL HAZARD | KEEP THIS SPACE CLEAR AT ALL TIMES | STACK CORRECTLY |
| BLOODBORNE PATHOGEN KIT | LASER BEAM | STATIC CONTROL AREA |
| BURIED CABLE | LASER RADIATION DO NOT STARE | STEP DOWN |
| BURIED PIPELINE | LIFT WITH CARE | STEP UP |
| CHEMICAL STORAGE AREA | LOW HEADROOM | STRONG MAGNETIC FIELD |
| COMPRESSED AIR HAZARD | MACHINE STARTS AUTOMATICALLY | TOXIC HAZARD |
| CORROSIVE | MAIN SWITCH | TRICKS CROSSING |
| DO NOT BLOCK DOOR | MICROWAVE IN USE | USE HANDRAIL |
| DO NOT ENTER | NAILING TOOLS IN  USE KEEP CLEAR | USE STATIC GROUNDING DEVICES |
| DO NOT ENTER CLEANING IN PROGRESS | NON-IONIZING RADIATION | WATCH OUT FOR PEDESTRIANS |
| ELECTRIC ARC WELDING IN PROGRESS | OPEN DOOR WITH CARE | WATCH YOUR STEP |
| | | WET PAINT  |