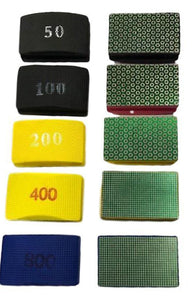 Diamond Hand Pads
$2500

$25.00
Tax included.
---
---
Used for polishing stone, marble, concrete, and glass. Allows ease of getting into hard-to-reach places, creating edges and seams that a power tool can't reach.
Electroplated

Ergonomic Design

Used Dry

Grit #50, #100, #200, #400, #800
Note: Colour or design of electroplating may vary due to supplier changes
Satisfy Your Aesthetic Taste with Diamond Hand Pads and Kits
For 25 years, Tool Smart WA has constantly been striving for tool upgrades, from looking for efficient formulas for cutting heads, to reviewing the special surface of stone, all of which are dedicated and meticulous.
Who Are We?
We are an Australian-based company serving Sydney's residents with the best and most affordable tools. Our polishing pads and kits, such as diamond hand pads, will make your work easier and more time efficient. 
Why Get Our Diamond Polishing Pads
We source the best Diamond tools and pads for concrete and Stone. Our highly trained staff will provide a set of seven high-quality diamond pad sets with a guarantee. Our manufactured Diamond polishing and sanding pads are used to achieve light on-site improvement.
Our pads are designed to get the work done. They are perfect for polishing marble, granite, concrete, and glass. Our diamond pads are also widely applied for smoothing glass edges. At Tool Smart WA we use our experienced knowledge, and only source Electroplated diamond polishing pads that are suitable and aggressive for polishing concrete and granite. 
Available In Several Types
We keep our customer's needs in mind and source many types of diamond polishing pads that can polish any surface. The superiority of the polish will provide a perfect and complete touch to your polishing necessities.
Why Tool Smart WA?
Staff at our store care about you, so when you need the right diamond pads for your work, talk to us. Depending on your use and surface, we have an extensive range to suit your project.
We're continuously looking for techniques to better your working environment and simplify the job by improving the number of tools you can use in your work. We strive to provide the right products for your job and ensure you work smarter, not harder.
Customer Satisfaction is Our Goal
We are Tool Smart WA, a highly trustworthy and honest tool providing service in Australia. We value our customers and honor them by providing the best tools they need at an affordable price. Visit our site at Tool Smart WA to contact us from anywhere; we will be happy to listen to any request carefully. We aim to keep our 100% satisfaction rate by providing the best customer service and tools.

Do you need meter box din kits? Look no further. Visit Tool Smart WA where you can easily select every tool at a trade rate.
Connect With Us
Looking to buy diamond hand pads from us? You can buy online or call us at 0403 412 263. We will quickly assist you and ensure your inquiry arrives on your doorstep fast.
Have a nice day!