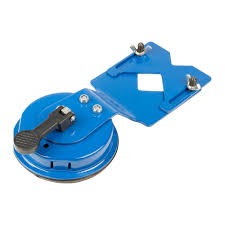 Suction Guide Metal 5" Adjustable
$1500

$15.00
Tax included.
---
---
Metal Suction Pad Adjustable.
5 inch Adjustable
Accepts hole cutters and drill bits up to 1mm-55mm in diameter.
Versatile Jig with 2 easy-to-adjust Sliding V Plates that lock to position
Drill safely and effectively
Drilling holes in stone tiles or other hard, smooth surfaces is often hard to initiate, especially when working with the lubricants necessary for diamond hole cutters/drill bits, so this drilling guide is designed to hold the spinning bit steady to start the hole in the exact spot required without skating or sliding.